Azure is a platform for Cloud computing services offered by Microsoft. It provides 600+ Services in its Cloud computing platforms. These services help to build, test, deploy, and manage applications on the Azure Platform. Azure offers infrastructure as a service, platform as a service, and software as a service along with that Azure enables ML and AI-supported applications.
Azure Service Architecture
Andriod (Linux), iOS, and Windows can work on offered cross-platform to run applications on Microsoft Azure. Azure offers Developer services, management and security, Compute and many more service to create intelligent applications which are smarter and engaging to people. The following is the Architecture of Azure Services offered by Microsoft.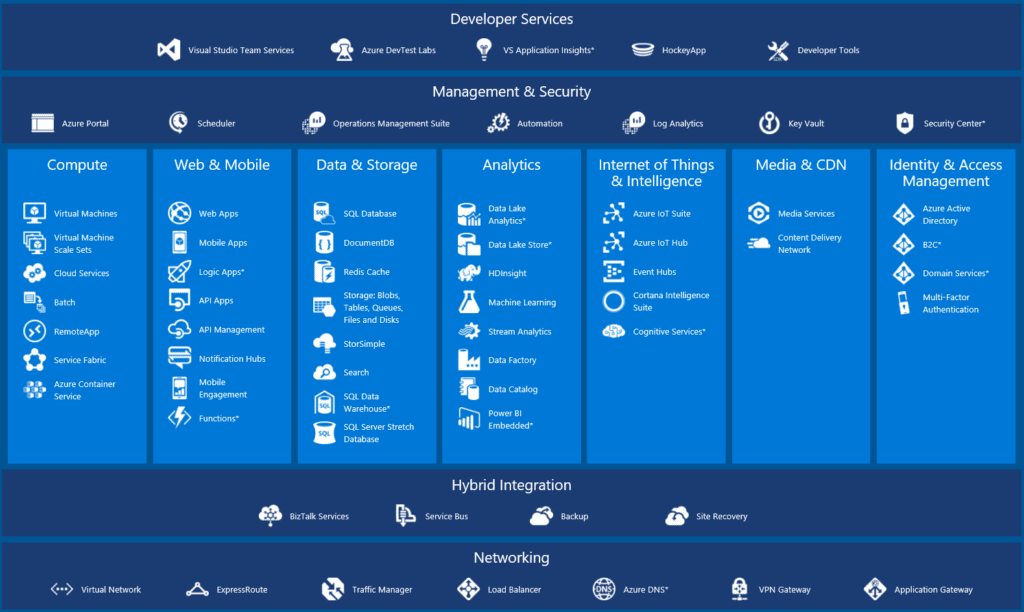 1.) Azure Compute Service
Azure Compute service is responsible for hosting services for applications and running the application on workload with making sure of Availability of live application. Microsoft Azure Compute service provides the infrastructure base for execution of any application and running in a real-time environment. Deployment, hosting, management, and running the application can only be possible with Azure Compute.
1.1 Virtual Machine
1.2 Azure App Service
1.3 Azure Functions (Serverless Computing)
2.) Azure Storage Service
2.1 Azure Blobs
2.2 Azure Files
2.3 Azure Queues
2.4 Azure Tables
3.) Azure Network Service
3.1 Virtual Network
3.2 Load balancer
3.3 Application Gateway
3.4 Traffic manager
4.) Azure Security
4.1 Application security group
4.2 Azure Firewall
4.3 Security Center
5.) Data Platform Service
5.1 Azure Cosmos DB
5.2 SQL Database
5.3 NoSQL Database
6.) AI & ML Services
6.1 Azure synapse Analytics
6.2 HDInsight
6.3 Event Hubs
7.) Container Services
7.1) Container instances
7.2) Container Registry
7.3) Azure Kubernetes service